Frequently Asked Questions (FAQ)
3. What should I bring with me at my first visit?
4. What should I wear to my first visit?
5. Is a prescription from my physician required before I can come to physical therapy?
6. How long will my treatment session take?
7. How long will I have to wait to get an appointment to begin my therapy?
8. If your office hours show that you are open until 9 PM one evening, can I make an appointment at 9 PM that night?
9. I see on your website that you have more than on therapist. Will I be able to schedule an appointment with a therapist of my choosing or does your office control who I see?
10. Do I need to bring my X-Rays or MRI films with me?
11. Do I need to let my therapist know that I am having a follow-up appointment with my physician?
12. Will my referring physician be informed of my evaluation and progress?
13. Will I receive a home exercise program to follow when I am not in therapy?
14. How much does a physical therapy treatment cost?
15. What forms of payment does The Rehabilitation Center accept and can I make a payment "online"?
16. Will you verify my insurance benefits?
17. Will The Rehabilitation Center file my insurance claims?
18. What should I do if my insurance company tells me that I need authorization for physical therapy?
19. I was involved in a motor vehicle accident. Are my injuries covered by my employers health plan or my automobile insurance policy?
20. What should I do if my insurance information changes?
21. If my insurance company says that I need an "electronic referral" what should I do?
22. I received a letter from my insurance company asking for information. Do I need to respond?
23. What are physical therapists (PT's) and what do they do?
24. How do I choose a physical therapist?
25. Is there a Code of Ethics for physical therapists?
26. Some physical therapist's have a lot of initials after their name. What does it all mean?
27. Do you only treat residents of the assisted living facility?
1. We are conveniently located at 155 Raymond Road. We are just off the lobby in the Buckingham Place building. Our location is convenient for residents of South Brunswick, Princeton, West Windsor, Plainsboro, Kingston, Montgomery and Franklin Park. Please see our locations page for directions.
2. Because physical therapist's treat a wide variety of conditions it is impossible to specifically state what your treatment will be. However, we understand that many patients have never had physical therapy and may be apprehensive about their first visit. It is only after your evaluation that will your therapist be able to develop your customized treatment plan. But in general our main focus is the reduction of pain, restoring movement, increasing flexibility and strength, and a return to your active life. Therapists use modalities such as ultrasound, electrical stimulation, massage, stretching, exercise, heat and ice among others in treatment. At your initial evaluation please be prepared to discuss your needs and any pain, lack of mobility or function that you currently have. This evaluation will involve certain range of motion, postural, and strength tests to help your physical therapist develop a plan unique to you and your condition. Please be confident that your treatment will be specifically tailored to your injury or condition and that our therapists will work toward reaching the goals set by you, your physician, and your therapist.
3. Patients should bring any referrals, prescriptions, insurance cards, and any patient information forms (Go To Forms) that were completed off our web site. Patient's that are under the age of eighteen must be accompanied by a parent or legal guardian.
4. Patient's should wear loose comfortable clothing that allows the therapist to access the injured area. For our patients coming from work we offer gowns for convenience.
5. A physician prescription is not required for treatment. However, prescriptions are a requirement of some insurance companies. We encourage all our patients to contact their insurance companies directly for information regarding referrals to physical therapy. Please contact us directly if you have any questions.
6. Most appointments last for approximately one hour. After your initial evaluation your therapist will be able to give you a good idea of the length of subsequent treatment sessions.
7. Depending on the time of day that you call, we can usually get new patients in the same day. If you call later in the day we can always get you an appointment within 24 hours during weekdays! Please feel free to utilize our "online" Appointment Request form available 24 hours a day!
8. For scheduling purposes you should subtract one hour from the closing time of our office hours. As an example, on Mondays we are open from 7 AM until 9 PM. This means that while you can make an appointment at 7 AM in the morning our last appointment is at 8 PM in the evening (since our appointments last about one hour).
9. Our patients have told us that at many other therapy practices patients are not permitted to schedule with a specific therapist. We have been told that patients can only make an appointments for a specific time. Upon showing up for that appointment the patient is told who will be treating them that day. This does not happen at The Rehabilitation Center! We understand and encourage the relationship that is formed between the therapist and patient. All of our patients may schedule specifically with one therapist and if the patient chooses may stay with one therapist. However, we do have many patients who choose to see more than one therapist and are extremely happy with the care given by all our professionals! We allow our patient's make all scheduling decisions!
10. Please bring any interpretation reports from when your X-Ray or MRI was read by a Physician. You do not need to bring the films. Because X-Rays and MRI's do not reveal everything your physical therapist needs to know in order to properly treat you, he or she will focus on taking your medical history, conducting a systems review, and performing physical tests and measures which identify potential and existing problems.
11. Yes. In order to provide your referring physician with your treatment status it is important that you notify us as soon as you schedule any follow-up appointments with your physician. We will take care of sending a written report outlining our findings and continued course of treatment.
12. Following your physical therapy evaluation, a written report will be sent to your physician outlining our findings and course of treatment. Progress reports will also be sent to your referring physician monthly and prior to any follow-up appointments. Therefore, it is important that you notify us to prior to any follow-up appointments. Additionally, the therapist will, as they feel feel appropriate, contact the physician by phone if they have a specific concern or question. At the end of your treatment the physical therapist will send a discharge report to your physician with final information as to your status at the time of discharge from physical therapy.
13. Yes, all of our patients will be given a home exercise program. Our office utilizes a state of the art exercise computer program that shows a before photo, a middle photo, and an end photo of each exercise. Below is an example of our easy to follow exercise program that will be tailored specifically to your injury or condition. One of the most important parts of your recovery process is your home exercise program. This may include stretching, strengthening, instructions on proper ways of performing movements, and modifications of lifestyle. Compliance with the home exercise program will greatly enhance your response to therapy, and is critical to long term success.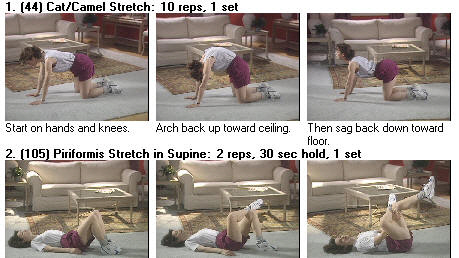 14. Our fees are standard for physical therapy services in the area. As we participate with most insurance companies, most patients are only responsible for the portion of the bill not covered by their insurance, i.e. co-pays, deductibles, and co-insurance. Because every insurance plan is different we will not be able to explain your financial responsibilities until we verify your insurance coverage. Please use our "online" Insurance Verification Request form to give us your insurance information and we will contact your insurance company and verify your benefits even before your first visit! You may also give us a call and we can gather the required information over the phone.
15. For the convenience of our patients we accept cash, personal checks, Visa, MasterCard, American Express and Discover. You may make a payment "online" by clicking on any of the credit card icons below or give us a call and we can process your credit card over the phone.
16. We will call your insurance company to verify your benefits once you provides us with all necessary insurance information. Please use our "online" Insurance Verification Request form to give us your insurance information and we will contact your insurance company and verify your benefits even before your first visit! However, it is ultimately the patient's responsibility to know his/her insurance coverage for physical therapy services. Not all services are a covered benefit in all insurance contracts. Some insurance companies arbitrarily select certain services that they will not cover. If you are not sure if a particular service is covered you must verify this with your insurance company. The Rehabilitation Center, Inc. recommends that all patients verify their own benefits before beginning treatment. We wish to emphasize that as medical care providers, our relationship is with you and not your insurance company. It is important to understand that your insurance benefits will be verified at the start of your treatment and NOT at every visit. Therefore you must notify us immediately of any changes to your insurance as well as maintain your insurance policy for the duration of your treatment sessions.
17. Yes. As a courtesy to all our patients we will process all claims with your primary insurance. For our Medicare patients we will also process all claims to your secondary insurance company. All patients remain responsible for the portion of the bill not covered by their insurance, i.e. co-pays, deductibles, co-insurance, and non-covered charges.
18. Authorizations for physical therapy are obtained by The Rehabilitation Center, Inc. Please give us a call regarding any insurance questions.
19. Unless you have elected to have your health insurance act as primary over your automobile policy, auto accidents involving someone insured in the state of New Jersey fall under the state's "No-Fault" statue. Basically you are covered by your policy and the other driver is covered by their policy regardless of "fault". Most policies in New Jersey have a deductible (chosen by you) and a 20% coinsurance up to a maximum set by your policy. Patient's are financially responsible for any deductible amounts co-insurance. If you are covered by an automobile policy please bring the name of your claims adjuster, your claim number, your automobile policy number, and your automobile insurance company name with you at the time of your first visit. The Rehabilitation Center will contact your claim adjuster and process all authorizations and primary claims for you.
20. All patients are responsible for promptly informing the business office of any changes in insurance coverage.
21. Electronic referrals must be generated at your primary physician's (and some specialist's) office. Most primary offices require several days notice to process electronic referrals. Please contact your primary physician's office directly to request an electronic referral. Following your request and prior to your visit please contact us directly to see if we have obtained your electronic referral.
22. You MUST respond to any letter that you receive from your insurance company asking for additional information! Failure to respond to any request will cause your claim to be denied and you will be responsible for all the charges on your account. Example: Many patient's think that receiving a letter from their insurance company asking them if they have any additional insurance coverage can be disregarded if they don't have additional coverage. This is not true! You must respond to all correspondence from your insurance company or all pending and future claims will be denied and you may become responsible for your entire medical bill. If you get a letter from your insurance company and you are not sure what to do, give us a call, we are here to assist you in any way we can.
23. Physical therapists (PT's) are health care professionals who diagnose and treat individuals of all ages, from newborns to the very oldest, who have medical problems or other health-related conditions that limit their abilities to move and perform functional activities in their daily lives.
PT's examine each individual and develop a plan using treatment techniques to promote the ability to move, reduce pain, restore function, and prevent disability. In addition, PT's work with individuals to prevent the loss of mobility before it occurs by developing fitness and wellness oriented programs for healthier and more active lifestyles.
Physical therapists provide care for people in a variety of settings, including hospitals, private practices, outpatient clinics, home health agencies, schools, sports and fitness facilities, work settings, and nursing homes. State licensure is required in each state in which a physical therapist practices.
All PT's must receive a graduate degree from an accredited physical therapist program before taking the national licensure examination that allows them to practice. Now the majority of programs offer the doctor of physical therapy (DPT) degree.
24. You are the most important member of your own health care team and are entitled to choose the most appropriate health care professional to meet your goals. The American Physical Therapy Association (APTA) has provided the following guidelines for choosing a physical therapist for your care.
Freedom of Choice
You have the freedom to choose your own physical therapist. Your physician may refer you for physical therapy that is to be provided in his or her office or to a facility in which he or she has a financial interest. Remember that it is your choice. You may receive physical therapy at the practice of your choosing and with a a physical therapist of your choice. In the state of New Jersey you may also go directly to a physical therapist without a physician's referral.
Keep in mind that your insurance policy may require a visit to the primary care physician first or limit your access to only preferred providers.
Physical therapists who are members of APTA are bound by the Association's Code of Ethics and are especially committed to providing competent and compassionate care.
25. Our Pledge To You: APTA's Code Of Ethics
This Code of Ethics of the American Physical Therapy Association sets forth principles for the ethical practice of physical therapy. All physical therapists are responsible for maintaining and promoting ethical practice. To this end, the physical therapist shall act in the best interest of the patient/client. This Code of Ethics shall be binding on all physical therapists.
PRINCIPLE 1
A physical therapist shall respect the rights and dignity of all individuals and shall provide compassionate care.
PRINCIPLE 2
A physical therapist shall act in a trustworthy manner towards patients/clients, and in all other aspects of physical therapy practice.
PRINCIPLE 3
A physical therapist shall comply with laws and regulations governing physical therapy and shall strive to effect changes that benefit patients/clients.
PRINCIPLE 4
A physical therapist shall exercise sound professional judgment.
PRINCIPLE 5
A physical therapist shall achieve and maintain professional competence.
PRINCIPLE 6
A physical therapist shall maintain and promote high standards for physical therapy practice, education, and research.
PRINCIPLE 7
A physical therapist shall seek only such remuneration as is deserved and reasonable for physical therapy services.
PRINCIPLE 8
A physical therapist shall provide and make available accurate and relevant information to patients/clients about their care and to the public about physical therapy services.
PRINCIPLE 9
A physical therapist shall protect the public and the profession from unethical, incompetent, and illegal acts.
PRINCIPLE 10
A physical therapist shall endeavor to address the health needs of society.
PRINCIPLE 11
A physical therapist shall respect the rights, knowledge, and skills of colleagues and other health care professionals.
27. No, while we do treat the residents of the assisted living facility most of our patient's are from the local communities.